De-Walling Freedom (Wymurzanie Wolności) is a visual music and dance performance on the walls of the Gdansk Shakespeare Theatre. The Gdańsk voice in the Shaking the Walls project referring to Solidarity Movement and the beginning of democratic changes in Eastern Europe in 1980!
The outdoor performance presented by Transgatunkowy Teatr SFINKS set in the context of Gdansk Shakespeare Theatre walls is an artistic comment on the power of cooperation and taking action in the creation of civil society. The event will refer to the origin of Solidarity Movement in Gdansk, which initiated changes in Eastern Europe leading to the fall of communism. The event, co-funded by the City of Gdańsk, is also a part of 40 Anniversary celebrations of the changes in Gdansk. The streaming of  the event on 29th August 2020 at 21.15 will be shown through the social media of project partners.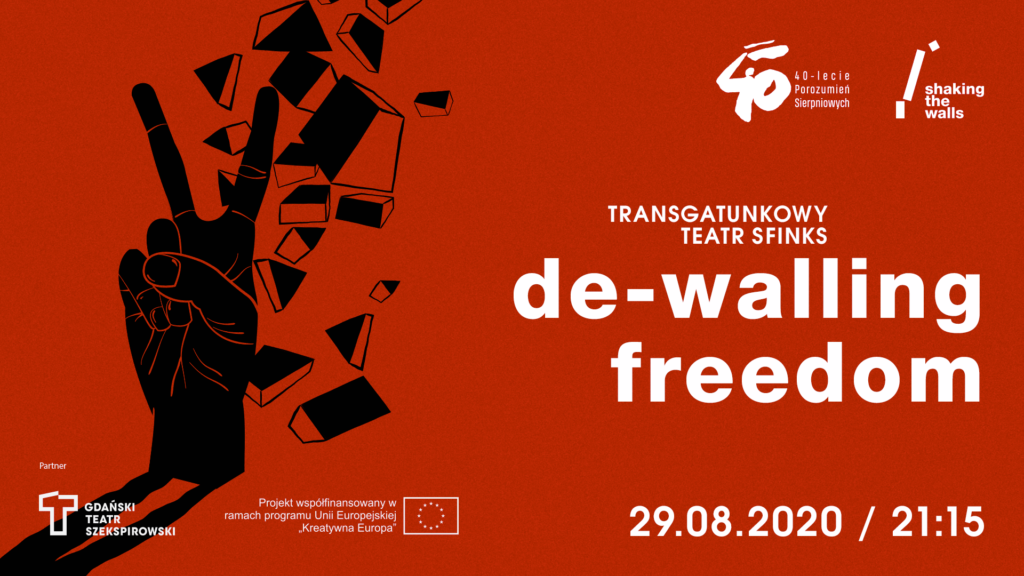 The performance has been created by:
Robert Florczak (artistic director), Alicja Gruca (costumes), Piotr Pawlak (music composer), Joanna Czajkowska (choreography), Zambari and Iza Uhlenberg (visuals)
Live musicians: Piotr Pawlak, Irek Wojtczak, Dominik Strycharski
Performers: Krzysztof Baliński, Krzysztof Czerny, Leon Dziemaszkiewicz, Jędrzej Gierach, Jan Górczak, Artur Grabarczyk, Dominika Kaczorowska, Ewa Kliszewska, Róża Kołoda, Mateusz Koszykowski, Beata Miernik, Asia Nadrowska, Aneta Parciak, Wiktoria Rudnik, Alicja Skopińska, Anna Steller, Kamil Wawrzuta, Marcin Zacharczuk, Agata Załuska, Ula Zerek.
Moreover on 29th August at 18.00 a public screening of the legendary performance "H." based on Shakespeare's "Hamlet" and made in 2004 in the abandoned post industrial venues of Gdansk Shipyard will be presented. The presentation will be followed by a discussion about Freedom and how it has been understood through the years with performance creators Jan Klata (performance' director), Marcin Czarnik (Hamlet), and Maciej Nowak (the director of Wybrzeże Theatre at the times the performance was created). The screening will be surtitled in English.
Klata's performance H after William Shakespeare's Hamlet was made for Teatr Wybrzeże in Gdańsk, and was played inside the Gdańsk shipyard. The director explains:
When, in the early 17th century Shakespeare wrote "something is rotten in the state of Denmark", he had his country, and not Denmark, on his mind. When I am reading it, I also think of my country. I was wondering where to locate Elsinor. It matters a lot what space you put it in. I went in the footsteps of that great man of the theatre, Stanisław Wyspiański, who wrote a fantastic study of Hamlet. He knew that space was essential in this drama. (…) He wanted it to be a place where the spirit of the nation, society, history, or whatever we should call it, focuses. In his times it was indeed the Wawel compound. To me such a perfect place is the Gdańsk shipyard with its Anna Walentynowicz overhead crane and its location close to the Three Crosses monument and to where the history of Europe and the world was made (Gazeta Wyborcza, Trójmiasto edition, 2nd July 2004).
Out of Hamlet Klata extracted the story of a generation: of the Prince of Denmark, Horatio, Laertes, Rosencrantz and Guildenstern. He examined the attitudes of young people at a time of personal or political crises, the symbolic choice of the location of the staging providing the obvious background of Poland's newest history. [source: Culture.pl]