Exclusive online presentation for the audience of five European countries!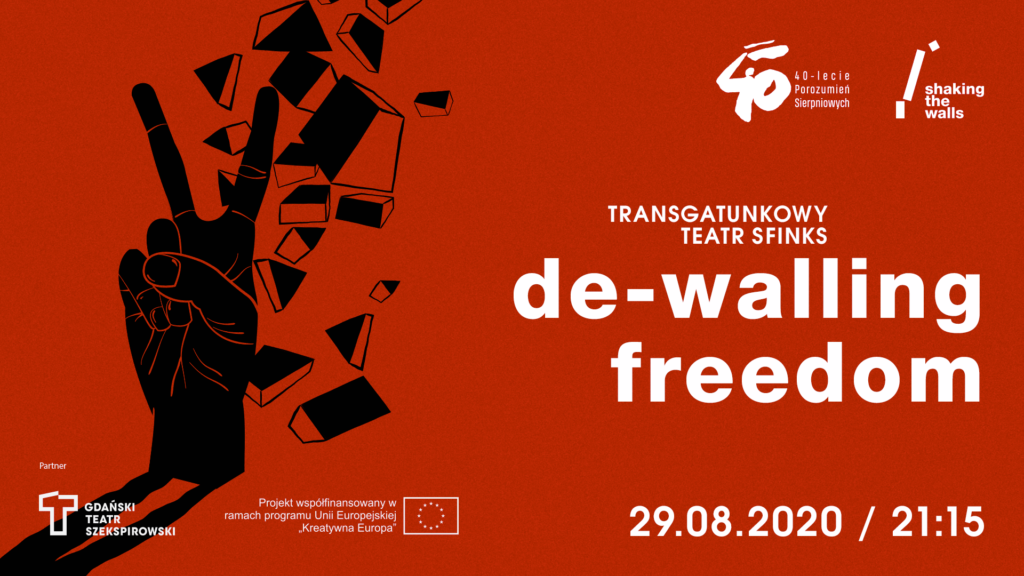 De
– Walling Freedom (Wymurzanie Wolności) is a visual music and dance performance on the walls of the Gdansk Shakespeare Theatre. The Gdańsk voice in the Shaking the Walls project referring to Solidarity Movement and the beginning of democratic changes in Eastern Europe in 1980!.
There will be two presentations of the performance in Gdansk, the second one will be streamed online in cooperation with Shaking the Walls project partners in order to reach international audience of five cooperating countries – Poland, Great Britain, Iceland, Ireland and Czech Republic.

The outdoor performance presented by Transgatunkowy Teatr SFINKS set in the context of Gdansk Shakespeare Theatre walls is an artistic comment on the power of cooperation and taking action in the creation of civil society.

The event refers to the origin of Solidarity Movement in Gdansk, which initiated changes in Eastern Europe leading to the fall of communism. The performance, co-funded by the City of Gdańsk, is also a part of 40 Anniversary celebrations of the changes in Gdansk. The streaming of streaming of the event on 29th August 2020 at 21.15 will be shown through the social media of project partners.
Outstanding location – vertical stage on theatre walls
Great show with exeptional sound, movement and visuals performed by 25 artists and 3 live-musicians.
The performance has been created by:
Robert Florczak (artistic director), Alicja Gruca (costumes), Piotr Pawlak (music composer), Joanna Czajkowska (choreography), Zambari and Iza Uhlenberg (visuals)
Live musicians: Piotr Pawlak, Irek Wojtczak, Dominik Strycharski
Performers: Krzysztof Baliński, Krzysztof Czerny, Leon Dziemaszkiewicz, Jędrzej Gierach, Jan Górczak, Artur Grabarczyk, Dominika Kaczorowska, Ewa Kliszewska, Róża Kołoda, Mateusz Koszykowski, Beata Miernik, Asia Nadrowska, Aneta Parciak, Wiktoria Rudnik, Alicja Skopińska, Anna Steller, Kamil Wawrzuta, Marcin Zacharczuk, Agata Załuska, Ula Zerek.